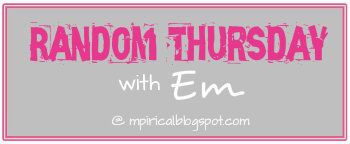 Welcome to this week's Random Thursday with
Lin
,
Sarah
- and me! This week we're happy to bring you a topic that I'm sure you'll all have plenty to contribute to:
I don't spend a lot of time on YouTube, but, like anyone, I've got a few favourites when I do. Mostly funny, and a lot inappropriate. You're welcome.
1.
Lisa Eldridge and Pixiwoo
I love makeup tutorials, and these two channels are the very best. Below is one by Lisa Eldridge that I just love.
2.
My Drunk Kitchen
Everything on this channel is piss-your-pants hilarious, so I didn't know which video to pick - so here's the first one. Go watch the rest.
3.
Honest Trailers
Titanic is my favourite, but I shared it a couple of weeks ago, so here's the one for Transformers.
1.
Jimmy Kimmel - I Told My Kids I Ate Their Halloween Candy
You might have seen this one already (I'm sure I put it in a post last halloween) but it still makes me giggle.
2.
How To Read A Book
So true!
3.
Will Ferrell on Conan - All Busted up over Kristen Stewart and Robert Pattinson
It's a bit mean, and I got blocked on Twitter for saying the Trampire comment was fair...but I don't care, because damn is it funny!
4.
Man Stroke Woman - Man Cold
My boyfriend is sick right now, and while to be fair it isn't this bad, this still makes me laugh extra hard.
5.
Single White Feline
I wouldn't be surprised. Cats are shady fuckers.
That's it for me! Now it's your turn - and make 'em funny, folks! Link up below!